The 11th Strategy Salon:
The Industry Structure & Main Body of Urban Water Sector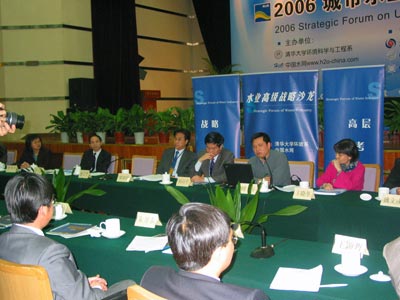 During the ¡°2006 Urban Water Strategy Conference¡±, the 11th ¡°Advanced Strategy Salon on Water Sector¡±was held. The theme was ¡°Industry Structure & Main body of Urban Water Sector¡±.
The opening speech was made by Dr. Fu Tao (director of Water Sector Strategy Research Center of Tsinghua University; chief advisory editor at h2o-china.com); he introduced the industry structure of urban water sector and the development of water sector's main body. According to his introduction, the traditional water sector within the municipal public system includes five industries: social service industry, technique-oriented industry, capital-oriented industry, integrated service industry. Their core competences are social work service, technology integration service, capital market controlling, and environment-related domain resuming consulting service, respectively. The attendees of the two conferences had a heated seminar and made speech right after Dr. Fu Tao¡¯s opening speech. The prize winners of ¡°2005 Water Sector Top 10¡± also attended the seminar (Veolia Water, Beijing Capital Water, Shenzhen Water, Sino French Water, Beijing Sound, Golden State, Tongfang Water, Anhui Guozhen Water, Capital Environmental Protection, Beijing Urban Drainage, Capital Environmental Protection, Beijing Drainage Group, Degremount Water Engineering).
The elites from different fields made respectively speeches on the theme, and expressed their points, which can be summarized here: the industry constructor in water sector is reforming, construction & technology integration became marketization and industry centre had turned to market operation; but the market operation was not independent. At present, the reform of water supply industry became the main issue and the tough question in water sector. How to solve this problem? This is the question concerned by government and related corporations. Some experts pointed out some solution ways: No.1: the government owns the assets, and transform to operation exclusive company; No.2: to establish joint venture; No.3: to transform to local franchise company, separate the proprietary rights and management rights, maintain the employee holding form. As one of the main bodied in water sector marketization reform, the corporations began to clarify their positions and rights. According to experts¡¯ opinions, we must clarify the respective demands of different main bodies. Corporations should seek social effect as well as economy effect, and enhance the service level.
In this conference, water sector operators declare their plan to execute the market management function in future, not only work as simple operator to provide the end service as part of the water sector industry chain, but also plan to provide service to government and investors to provide some upper part service like project assessment. They are doing some 2-year-long supervise work of some BOT projects.
Specialists from National Development Bank introduced the new bank loan policy for water sector. National Development Bank will ease the policy restriction to bank loan and release the new guide-policy to wastewater treatment project and waste treatment project.